When it comes to choosing cabinets for your house, you have many aspects to consider. You must pick the right model, and size, but also the right finish and color. Some people go with painted cabinets, while others prefer stained ones.
Cabinets completely enhance the look of any place. They're present in bathrooms, kitchens, laundry rooms, and even bedrooms, depending on the case. For this reason, you have to choose the right model for your home.
So, should you go for stained or painted cabinets? Let's look at the difference between the two and some benefits of each.
Stained and Painted Cabinets – What Makes Them Different?
Before you can decide whether you should choose painted cabinets or stained ones, you need to understand what makes them different.
One of the biggest differences is perhaps the base used and the finish. Painted cabinets usually use MDF bases. At the same time, stained cabinets have a wood-grain veneer base or solid wood base.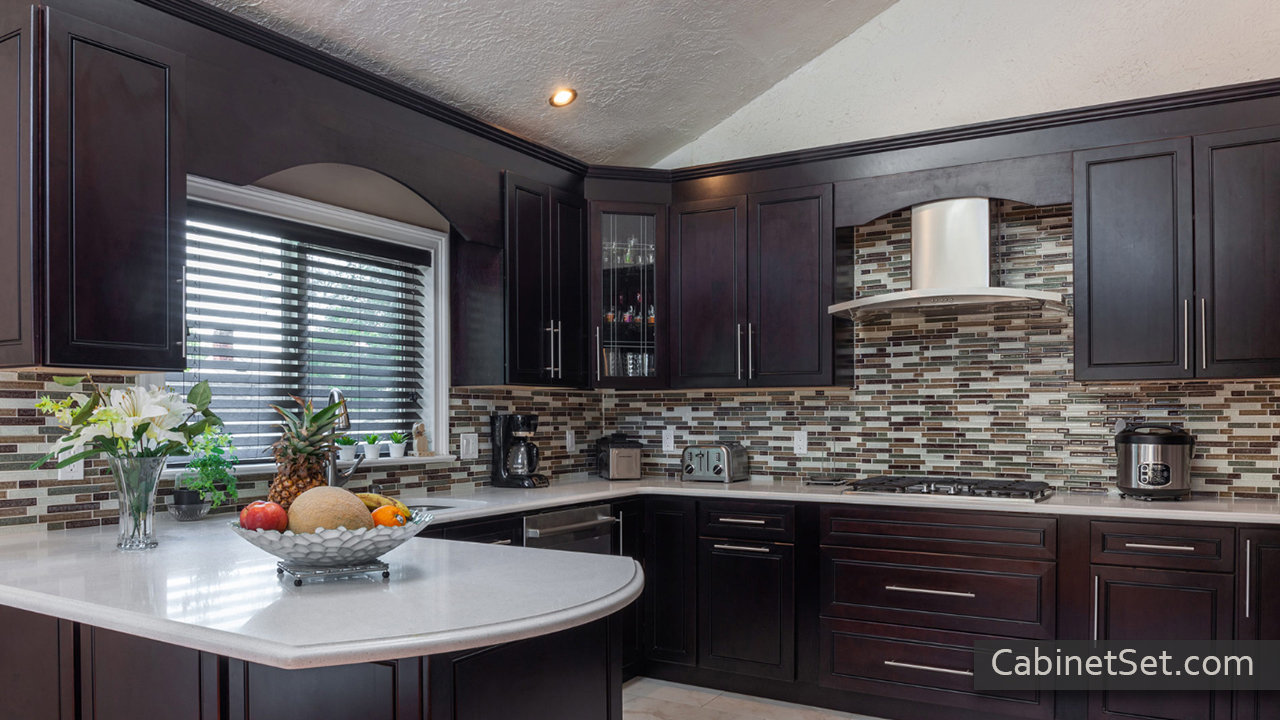 MDF bases are chosen for painted cabinets as they allow for a smoother finish after painting. They result in less cracking, making the surface more stable for paint.
Painted cabinets typically have more unique colors. They come in different shades of green, blue, as well as whites, and grays among others. Stained cabinets usually settle for more natural wood tones, like browns and tans.
In terms of costs, painted cabinets will be pricier in general.
Pros of Stained Cabinets
Now, let's take a look at the benefits of stained cabinets:
You'll Pay Less for Stained Cabinets
If you are on a budget, yet you still want to get some high-quality and gorgeous cabinets, you can always opt for stained ones. Compared to painted cabinets, they cost less.
Of course, the last price of the cabinets will vary based on other factors such as the manufacturer, size of the kitchen, and others.
"Cost ultimately hinges on several factors, like kitchen size, cabinet construction, manufacturer, and so forth," says Sam Ferris on Houzz.com. "But stain tends to keep costs on the lower side, a huge benefit if you're flipping a house, remodeling a rental unit, or simply don't want to spend a fortune on kitchen cabinets. It generally costs less than paint, though customized options will be more expensive."
Stained cabinets will usually have more natural wood tones, which are great if you are interested in a natural look for your kitchen or bathroom. Even better, the aspect of the wood will be improved by the stain.
"Since it's thinner than paint, it seeps into the surface, which can enhance the natural beauty of your wood. You'll be able to admire the wood's distinctive features," declares Sam Ferris for Houzz.com.
Touching Up Stains More Easily
It's bound for the surface to lose its aspect at some point, especially if you are getting the cabinets for a high-traffic area.
Luckily, fixing the issue with stained cabinets is very easy – you can find touch-up markers that will immediately get rid of the problematic area. You can find markers in the exact color of the stain, or a very similar one.
Pros of Painted Cabinets
Painted cabinets also have various benefits, such as:
The natural wood look is not for everyone. Some homeowners want to go to another level, opting for colorful cabinets to match their kitchens, bedrooms, or bathrooms.
Painted cabinets are the better option in this case because the paint sticks to the wood's surface. As such, it will not be ruined by the knots or grains as it happens with stained cabinets.
Painted cabinets allow you to achieve a clean aesthetic. If you're looking for a neat and sleek finish, then painted cabinets are something to consider.
"Not all roads lead to a crisp kitchen design, but painted cabinetry does," adds Sam Ferris. "The classic all-white kitchen, for example, wouldn't be what it is without gleaming white cabinets."
"Paint is perfect for homeowners who aren't fans of the character marks common to stained wood cabinets and instead prefer a smooth, flawless finish."
Lower Costs Thanks to MDF
If you want painted cabinets but fear the costs, you can always opt for medium-density fiberboard as a base. It will not only bring costs down but will also allow the paint to stick very well to the surface. You will not be able to tell the difference between MDF and real wood after painting.
Final Thoughts
Whether you should go for painted or stained cabinets depends on your preferences. Now, you have the pros and cons of both to compare, so make your choice wisely.