The Best Bathroom Color Schemes
Finding the right color scheme for your bathroom can be quite tricky, especially if you do not want to go for bold options. Although there are many colors you can add to your bathroom to either make it feel peaceful or make it seem larger, choosing a color scheme without some help is truly challenging.
If you're about to remodel or renovate your bathroom, it's crucial to choose your colors carefully. The right scheme can completely transform this sacred space, making it so relaxing and gorgeous that you will want to spend your whole day inside.
Here are the best bathroom color schemes you should consider.
Slate Gray, White, and Emerald
This color scheme can truly make the bathroom feel calming. You can go for wall mingles with an emerald-tile accent, while choosing slate floors. The vanity can be made of wood. Meanwhile, the rest of the bathroom can be white. This gives the impression of more light.
"Shades of green reminiscent of lush foliage deliver a calming quality to this bathroom," says Jessica Bennett from Better Homes & Gardens. "The emerald-tile accent wall mingles with slate floors and a richly stained wood vanity for an intriguing mix of textures. Bright white coats the rest of the room to keep the look light and airy."
Gray and Wood
One great way to make the bathroom feel like a little spa is by combining wood with gray colors. You can get this look and atmosphere by opting for an oak floor and gray cement tiles. There will be a very nice contrast between the materials and their color, truly reaching an aesthetic that will be complimented by any guest that enters your house.
"The warm wood tones of the oak floor and the cedar sauna juxtaposed with the cooler, calming gray tones of the cement tiles provided a fresh and soothing environment," said Tania Casill for Huit when presenting an example of such a color scheme.
Neutral Colors
If you want to maintain a neutral look, you can simply go for neutral colors. You can go with beige and brown or grey and white. What's great about this color scheme is that it will not go out of style, so you will not have to worry about changing the scheme anytime soon.
"Neutral bathrooms are classics for a reason," says Jessica Bennett from Better Homes & Gardens. "They allow colors to inspire feelings of calm and serenity. But they do need breaking up; you can do this by mixing two different neutrals. Go one shade darker – grey and white, or beige and brown."
Black, Ocean Blue, and Antique Brass
Blue is a great color to add to the bathroom, and if it's your favorite color, then you'll have a blast with this color scheme. Adding watery blues to your bathroom space can make it feel very relaxing and soothing. For more contrast, you can use black accents and antique brass.
Then, for more visual interest, you can add patterned floor tiles.
Gold, Wood, and Aqua
A bathroom with aqua hues is a great way to add more contrast to the bathroom. You can go for metals, woods, and leathers. Wood tones can look much warmer when combined with a blue-green tile and wall covering.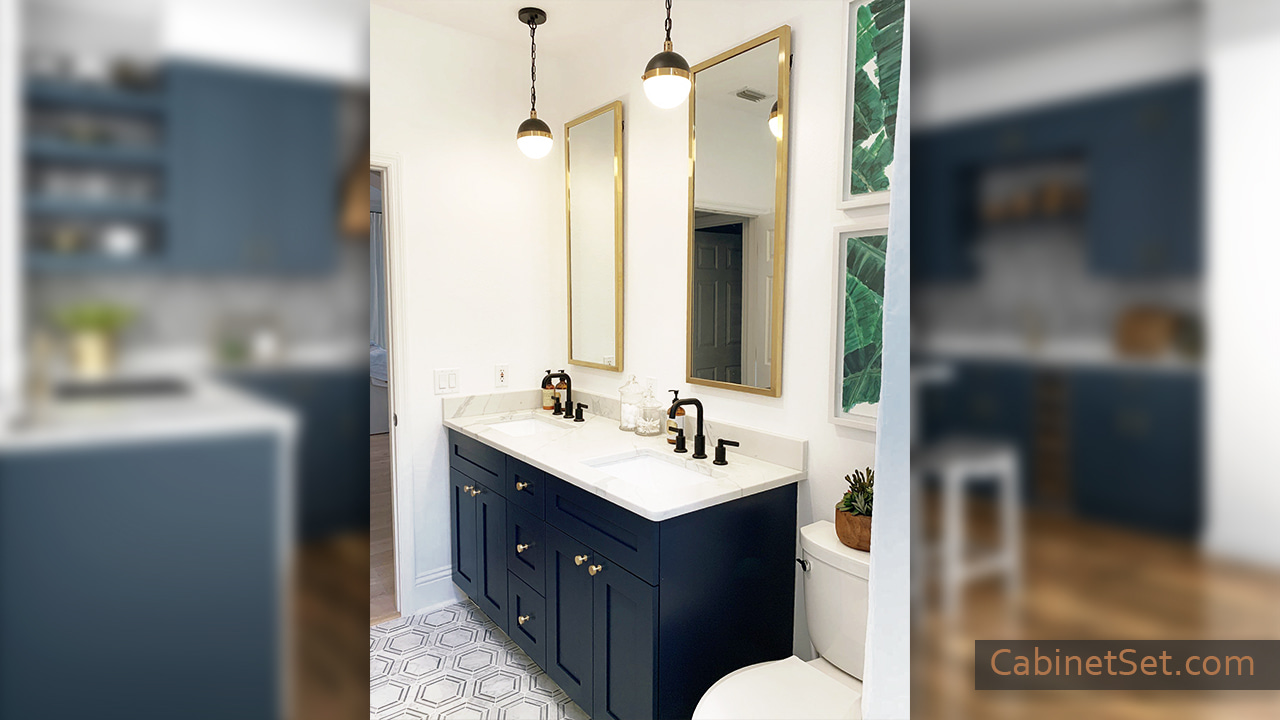 "For this bathroom, we wanted to keep it beachy and fresh and use a blue that wasn't too masculine," says Ashley Clark from Skout while presenting such an example. "The variation in the tile and contrasting white in the wallpaper help this space feel fresh and clean."
Darker Colors
You should not be afraid to go for darker colors, even if many people prefer brighter bathrooms. Your bathroom can truly look unique if you go for something like indigo or charcoal. If you also add some light finishes, then the contrast will make the space look magical.
For a more modern look, you can also add a different hue to the dark scheme, such as bright green.
Final Thoughts
There are many colors to opt for if you want a new color scheme. What works best for you depends on the amount of space you have and the layout, but also your preferences. Analyze the color schemes presented here and see which one suits your needs the most.